Precast construction of a detached house.
26/02/2012
Singular Studio will design a detached house with assembly processes and precast construction.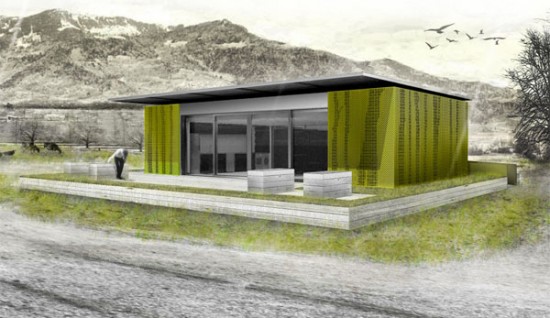 The construction by industrial systems, also called prefabricated, modular or dry-board, is a construction building system that tries to do most of the work in production plants, where the conditions of implementation, monitoring and quality can be higly controlled. In short, this is just to do most of the work in a controlled environment and highly qualified staff, in order to obtain parts of a final product, in this case a house, which will eventually be assembled into the final location. These assembled parts are transported by truck to the destination where the plot is already prepared, having completed the earthwork and foundation. Thus, the construction process results in a sort of "Lego" where, after having assembled the parts, the last shots are made in-situ, to give continuity to the elements of the housing deck and envelope. This is not a new constructive way, in fact it has been widely used in the Nordic countries due to the inability to work for much of the time outdoors due to weather, but we can say that here in Spain, it has never been widespread due not only to our good climate, but also because of a highly constructive tradition linked to craftsmanship. However, the current situation in the field of architecture and construction requires, as in this case, finding ways and systems that optimizes the construction of our buildings, to reduce costs without decrease in absolute the quality, and while securing and controlling the deadlines and deliveries. It all started when one of our clients came to visit us. He explained that he had saved some money to fulfill his dream of owning a home in the countryside, but he understood that he hadn't a lot of money and above all, he was afraid of being unable to cope with the execution of the work after having started same due to frequent and unfortunate incidentals that often exist in traditional works. After explaining what it was this building system, he agreed enthusiastically, as the main advantages of industrialized construction are: - Quality real as prescribed by the manufacturers without losses due to poor execution. - Control of run time. - Reduced costs since it reduces the execution time (the most expensive in a construction is frecuently the man power). - Price closed with exact delivery date. - Customization and design possibilities larger than usual, since it doesn't depends on the knowledge of local labor (unfortunately lately less qualified). - Flexibility. Housing can be extended with minimal discomfort. - Sustainability material, because we damage the environment less by not generating construction waste on the ground and reduce the ecological footprint to minimize construction processes. Here below we leave some very interesting videos where you can see what it's all about. In this first video, we show the construction of the "Casa Garoza 10.1", conducted by Herreros Arquitectos. As you can see, the assembly of the house is done in one day. [vimeo:24519934] In the following video, you will see the construction of a small corporate headquarters in Shanghai World Expo 2010. [vimeo:13727829] Finally, in this video you will see how we can not only make small buildings with these systems, but also large residential buildings completely finished in just 15 days. [vimeo:34813930] We hope that the information has been useful for you. For further information on individual cases contact us and we will gladly help you. Until next time!
Tags:
Arquitectura Sostenible
,
arquitectura bioclimática
,
sustainable architecture
,
investigación
,
research
,
BIM
,
Singular Studio
,
Jose Moragues
,
modular architecture
,
arquitectura modular
,
construcción industrializada
,
precast construction
,
construcción junta seca
Share this post