CONCRETUS HOUSE
07/09/2014
Today's post is about the last house for which we have just obtained permits for construction. It is a detached house to be built in Javea, on the cliff of a beautiful creek. The house is set in a truly enviable natural emplacement, so that from the beginning it was decided that it should be perfectly integrated into its surroundings. To do this, in Singular Studio we have choosen natural materials, while minimizing the impact on the ground adapting to it, so the house is developed following the proper slope of the cliff, embedded into it and going unnoticed from the street or the sea, in order to not to obstruct the view of the people who walk through this magnificent place. The house takes its name from CR_House, as an acronym of the material in which is conceived, the concrete. As you can see in the picture below, the house set a single forceful volume of concrete with wood texture. It is oriented in order to maximize its views over the sea, studying at the same time the shadows generated over the glass, to minimize energy losses.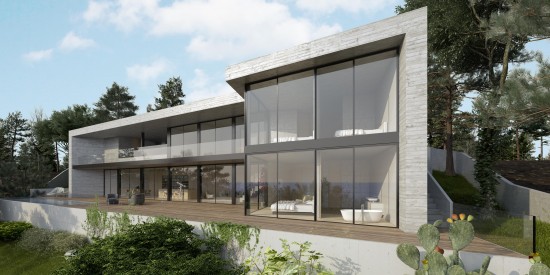 This image shows the view from the living room, with the kitchen and dining room at the back, and the pool and terrace to the left of the image. See, also inside of the house was used concrete, this time with wooden texture in the floors and phenolic texture on the walls. On the other hand, for kitchen furniture, flooring, cabinets, doors or technical ceilings has been used beech wood.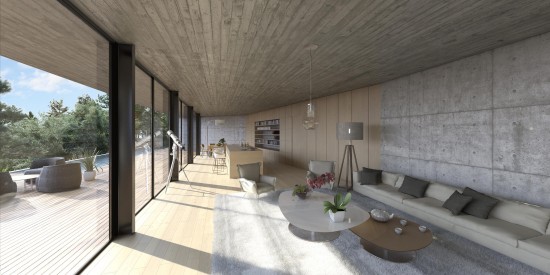 Due to the steepness of the plot, the garage has been placed on the first floor, as is sensed at the back of the image below. This view is taken from the main entrance hall of the house on the first floor, where all bedrooms, except the master bedroom which is located on the ground floor, are located. This image clearly shows the combination of the four basic materials that have been used in the house... concrete, wood, glass and aluminum.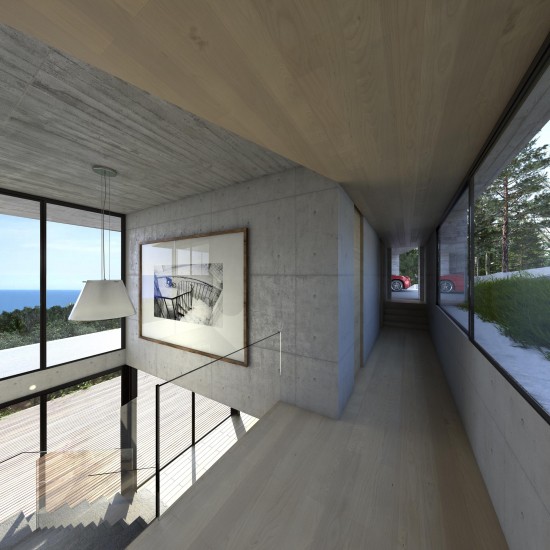 Finally, we leave you with another external image of the house, this one taken at night, highlighting the lighting of interior spaces.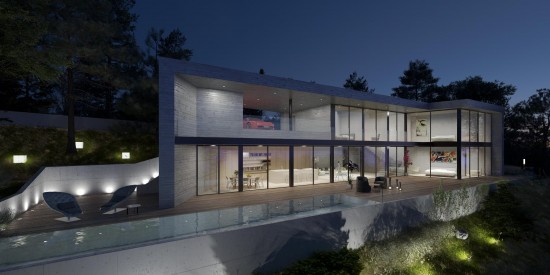 We hope you liked it. As soon as we will start the construction, we will be showing you a monthly evolution of the construction of this house. See you soon!
Tags:
Arquitectura Sostenible
,
arquitectura bioclimática
,
sustainable architecture
,
Singular Studio
,
Jose Moragues
,
Javea
,
Xabia
,
arquitectura saludable
,
healthy architecture
,
Villas de Lujo
,
CR_House
,
luxury villas
,
Costa Blanca
,
arquitecto Javea
,
Javea architect
Share this post