VOGUE HOUSE
02/07/2015
Today, we introduce you one of our latest projects in which we are currently working, Vogue House. It is about a detached house located in Javea. The house has three floors, and we can find on the top floor (which has the most peculiar and characteristic shape of the project) the master suite. The principal materials are lime based mortar, being very important on the edges of slabs of the main facade, being combined with slate walls, which are recessed respect the main line of facade. Slate walls are also used inside the villa too, intensifying the unit of the project. Here we leave you the image of the principal facade.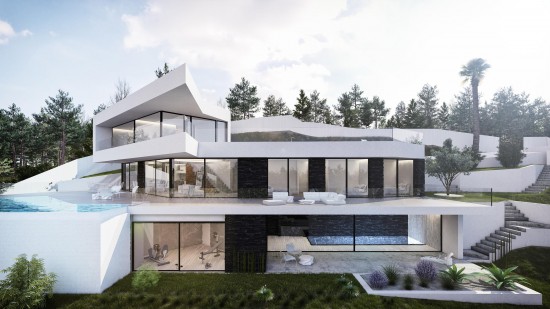 The access, which is on the ground floor, is done though a sequential path where you can walk between water and vegetation. The access facade has more privacy than the facade described above, this one is provided with small and elongate holes, which reaches the entire floor level, the access door is totally integrated in this decorative appeal. In these holes the slate material is also used as decorative appeal giving the facade a very special and modern style.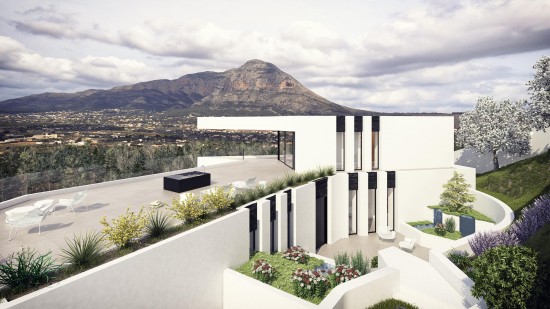 Here you have an image of the interior of the house, where you can see how indirect lighting is used in order to obtain a really cozy atmosphere. Inside the villa, wood is used in some isolated area, but in general, predominates a range of neutral colors in furniture, walls and floor, the last one is made of travertine, both exterior and interior, with the purpose of obtaining a continuity effect in between inside and outside.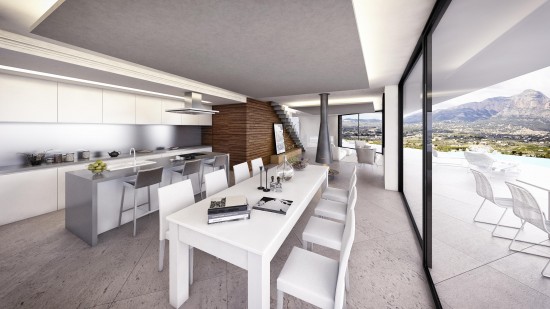 The house has two large terraces, one of them with jacuzzi and a gardened roof, the other with swimming pool and direct access to the main garden, both of them with beautifull views to the Montgó natural park.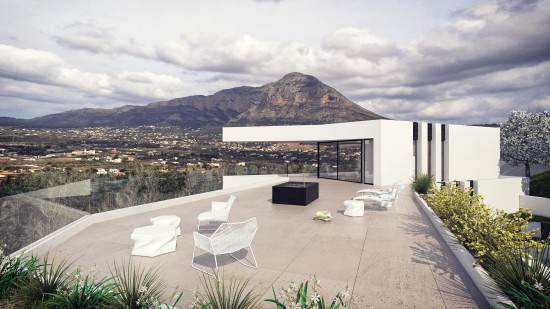 We hope you like it!
Share this post